Wow! 
The team at Theory Studios participated in the worldwide Ludum Dare Game Jam this weekend. In short folks have 72 hours to create a game, using whatever they can at their disposable. Here at Theory we gave it a shot. Check it out: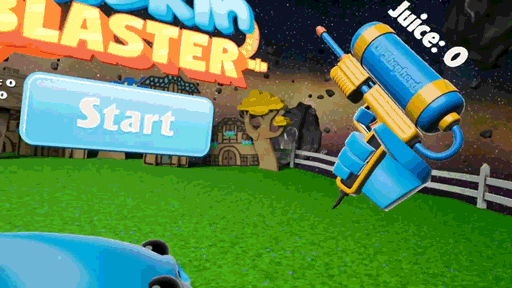 Blobkin Blaster VR is a quick breed-em and shoot-em up VR Game. You must defend your blue Villagers from monsters that swoop in from space portals. The catch is your gun is powered by your Villager's life-blood! In order to defend them, you'll have to sacrifice them!
This is a Virtual Reality (Oculus Rift, Vive) seated experience! It will only work with an HTC Vive or an Oculus Rift. Windows Media and PSVR is not supported right now.
Vote here: https://ldjam.com/events/ludum-dare/43/blobkin-blaster-vr
Grab a copy here: https://drive.google.com/file/d/1vLY_g-S10rYukDbvZJePGWetPuLa8DS8/view?usp=sharing
For those of you without VR, here's a cool video our lead Game Designer Chris Folea made 🙂
To play, grab your gun with one hand, grab a blue Villager with your other, then stick them with your gun's needle end (the bottom of the hilt) to suck your Villager's life!
Shoot Monsters that portal in to protect your village. The Monsters will drop food when shot, grab the food and a villager and smash them together to make a fatter (cube) villager. Once you have two Cube Villagers, rub them together to make new Villagers!
The game ends when you lose all your Villagers
Hold down Grip buttons to pickup Trigger to shoot on whichever hand is holding the gun
Team
Andrew DiDomenico – Animator
Ben McDougal – Texture Artist
Chris Folea – Lead Game Developer & Creative Director <- this man crunched 72 hours :O
Costas Frost – Particle Artist
Daniel Manoiu – Sound & Music
David Andrade – Taskmaster/Producing
Iliana Ortiz – Rigging Artist
Jill Blue – Voices, Arborist, Backgrounds
Kate Sims – Scripts, Backgrounds
Katie Patenaude – Social Sharer
Marc Gordon – Modeler, Texturer
Michael Richardson – Portaller
Tatianna Quigley – Character Artist, Graphic Designer
Comments We primarily tested on Oculus Rift, and while it works with Vive, we didn't playtest it much. Not sure if it work on Windows Mixed Reality (we don't own one to playtest).
There are a few bugs (shooting a Monster while a Villager is in mid-air will leave them stuck, doh!)
Used additional Sound Effects from Digital Juice (splatter) – However the Music and Voices are our own Used additional particle effects from RTFX Generator (the poof when Monsters die).
Have fun! And let us know what you think. This was a fun project to make.